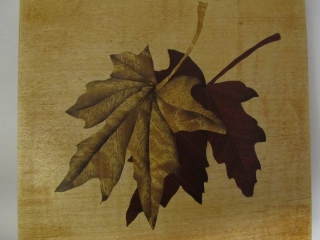 A two-day class exploring the widely practiced double-bevel marquetry technique, using sawn veneers and hand tools. In double-bevel marquetry the picture is drawn on the background veneer, the 'inlay' piece is taped underneath and both are sawn together on an angle, creating a precise, wedge fit when the pieces are assembled.
On the first day we learn the basic techniques of the process, and after some practice create a simple leaf-&-twig picture. On the second day we advance to a somewhat more complex picture and include the hot sand shading technique that lends depth to the picture. We will also work with thinner, more readily available commercial veneers, time permitting.
Two-day workshop, July 11-12, 2020
Currently on offer through the Southwest School of Woodworking
Total Cost (including tuition and materials): $360
Registration:
https://southwestschoolofwoodworking.org/index.php?page=class&id=151
Sufficient tools to accommodate a class of six, or you can bring your own stuff (list below). The tool kits supplied for use in the class can be taken home for an additional fee of $100, and include the complete marquetry toolkit and shop-built adjustable birdsmouth that you used in class.
I recommend the book The Art of Marquetry, by Craig Vandall Stevens (or his more recent The Fine Art of Marquetry) for both inspiration and a clear explanation of the double-bevel process.
Tool list (for those wanting to bring their own):
Adjustable birdsmouth (sawing platform)
12″ throat fretsaw
one dozen 2/0 pinless saw blades
pin vise
one dozen #75 drill bits
small (Dremel or jewelers) countersink