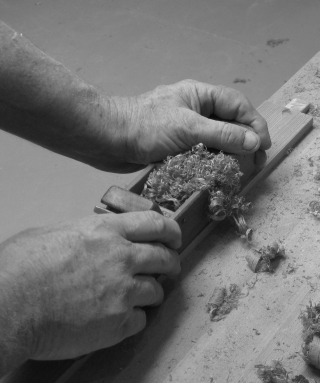 I make fine wood furniture and teach small classes in fine woodworking techniques in the tradition of my teacher and mentor, the late James Krenov.
I make wooden hand planes, including the hardening and tempering of plane irons and other small edge tools.
As part of my work and interest in traditional woodworking, I enjoy restoring and using vintage and antique woodworking machinery and hand tools.
At the present time (mid-2021) I am not accepting commissions for fine furniture work. I will consider commissions for smaller-scale work such as boxes and cabinets for the display of art or other precious objects.
Due to lack of suitable space I am not currently offering scheduled classes. I hope that will change in the near future, if you are interested in classes but not already on my mailing list please send an email to me at azfinewoodworker@gmail.com and I will gladly add you to the list.
In the meanwhile I am teaching classes offered by the Southwest School of Woodworking, in central Phoenix, and I can offer personal instruction to students who are willing to have me visit their own workshop space. I am available to work with students, beginners through advanced, on a one-on-one basis to focus on skills that are of particular interest to you.
If you have questions or would like more information about my work or the classes I offer, please contact me by email at azfinewoodworker@gmail.com or by phone at 602-308-9188.
---