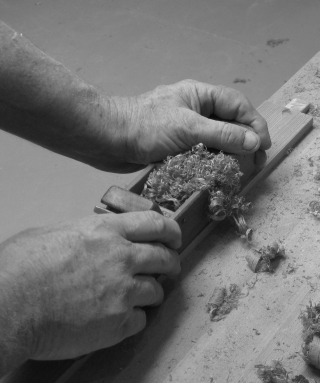 I make fine wood furniture and teach small classes in fine woodworking techniques in the tradition of my teacher and mentor, the late James Krenov.
As part of my work and interest in traditional woodworking, I enjoy restoring and using older woodworking machinery and hand tools.
Please peruse the schedule and class descriptions links provided and get in touch if you find any of the offerings of interest. I am also available to work with students, beginners through advanced, on a one-on-one basis to focus on skills that are of particular interest to you.
If you have questions or would like more information about my work or the classes I offer, please contact me by email at azfinewoodworker@gmail.com or by phone at 602-308-9188.
---
Recent Items Of Interest:
Mortise & Tenon Workshop

The latest Mortise & Tenon workshop was held October 3-4, 2015. For this class we make a pair of Krenov-style shop stands, using both blind and through mortises and a bridle joint. These stands are remarkably useful and utilitarian, most folks end up making several pairs for use in the shop. We used some 4/4 ash in this case, I've made them from maple, oak, cherry, poplar, even kiln dried spruce 2×3′s from the big box store.